Contacts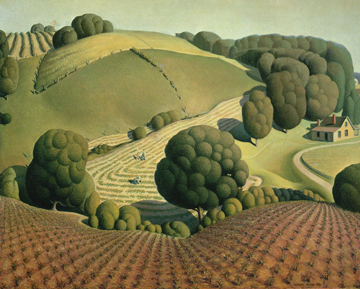 Grant Wood, "Young Corn"
Social Media —
Find an Iowa Green Facebook Page or Group Near You
CENTRAL IOWA:

WESTERN IOWA

EASTERN IOWA

SOUTHERN IOWA

NORTHERN IOWA

Green Party officers, state and national officials,
and other related information.
Iowa Green Party Officers
A Practical Way to Help: 9091 for JCGP!
Please donate your unwanted household items to the Green Party account at Houseworks, 111 Stevens Drive, Iowa City 52240. You will be asked for our account number, which is 9091. All profits will go to the Iowa Green Party. Thanks!
Iowa Green Party Officeholders:
Iowa Green Party County Chapters and Contacts:
Black Hawk County Green Party:http://blackhawkgp.weebly.com/
Henry Gaff
henry.latios@gmail.com
Facebook: https://www.facebook.com/blackhawkgp/
Cerro Gordo County (Mason City, Ft. Dodge)
Shaun Buchite buchiteshaun@yahoo.com
North Central Iowa Green Party Facebook Group
Dallas County Green Party
Justin Waters justinjwaters96@gmail.com
Des Moines County
Richard Johnson
E-Mail: panther78@gmail.com
Phone: 319-601-1364
Johnson County Green Party: www.johnsoncountygreenparty.org
P.O. Box 2473
Iowa City, IA 52244
319-331-9616
Holly Hart hhart11@gmail.com
Linn County Green Party
P.O. Box 2151
Cedar Rapids, Iowa 52406-2151
dr_pac-man@mschi.com

Polk County Green Party (Des Moines)
Scott County Green Party
Ted Pfeiff
563-332-9203
tpfeiff@earthlink.net
Washington County contact: Dawn Jones dawnj@netins.net
Winnesheik County (Decorah)
Christine Mohrhauser christine_roseflame@yahoo.com
Woodbury County contact: David Grimes rangerdave1973@gmail.com

Campus Greens
Iowa State University
Linn County
Other Green Party Sites
Government Contacts:
Media Contacts:
Some Relevant Links and Addresses
100 Grannies, 100grannies.org
Move To Amend, movetoamend.org; movetoamend.org/iowa
WIN Working Iowa Neighbors http://iowaaflcio.org
1000 Friends of Iowa, www.kfoi.org
Activist Resource Group, http://www.resourcesforlife.com/groups/activist/
Environmental Advocates, http://www.environmental-advocates.org
Friends of Hickory Hill, www.hickoryhillpark.org, P. O. Box 3439, Iowa City, Iowa 52244-3439
Iowa Citizens for Community Improvement, www.iowacci.org
Iowa Environmental Council, http://www.earthweshare.org
Iowa Historic Preservation Alliance, http://Iowapreservation.org
Iowa Recycling Association, http://www.iowarecycles.org
Iowa Renewable Energy Association, http://www.irenew.org
Johnson County Historic Preservation
Nature Conservancy, iowa@fnc.org, 303 Locust Street, Suite 402, Des Moines, Iowa 50309, nature.org/iowa
Johnson County Heritage Trust http://www.jcht.org
Sierra Club, Iowa City Area group http://iowa.sierraclub.org/icag/contacts.html
Practical Farmers of Iowa, www.practicalfarmers.org
Physicians for a National Health Program, http://www.pnhp.org
Sustainable Living Resource Group, http://www.resourcesforlife.com/groups/sustainableliving/
Iowa City Co-Housing, http://iowacitycohousing.org
Small House Society, http://smallhousesociety.net
New Pioneer Coop http://www.newpi.coop
Working Families Party http://workingfamilies.org
03/13/2018 11:37